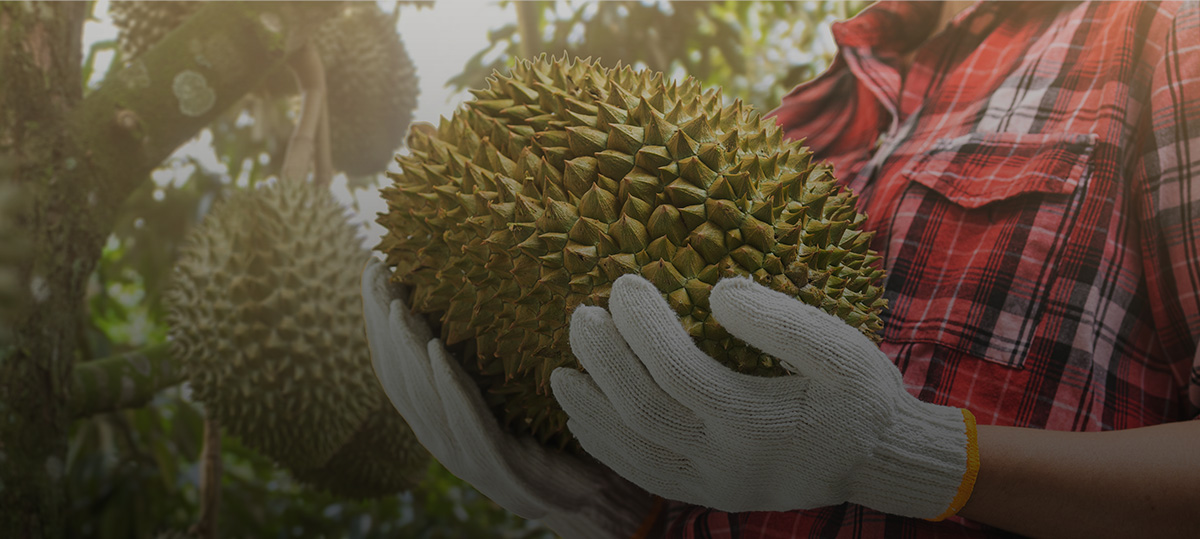 The ORESCO Story
Many years ago, a young kampung boy stumbled upon a curious object near his home. It was green and somewhat round, with a shell of razor-sharp thorns. He later discovered from his Grandma that it was a fruit called 'durian'. This durian had fallen from his neighbour's tree. Tickled by the boy's curiosity, the neighbour gifted the durian to him. He tasted the durian for the first time and instantly fell in love with its unique flavour. From the seed of that same durian he ate, the young kampung boy planted his first durian tree.

Today, he is helping others to realise their durian dreams too.
From Nature to Nature
Technology has created so many man-made marvels in today's civilisation. But the natural ecosystem remains at the heart of everything – with agriculture providing food, nourishment, and economic opportunities to us all.

Take the Blackthorn Durian for example. Of all the places in the world, Malaysia has the perfect conditions to grow this rare and delicious fruit. Climate, soil, geographical conditions – everything is just right.

With durians being sought after worldwide today, nature has presented us with a massive potential to improve Malaysian lives and livelihoods – thereby driving our country's economy. The opportunities are varied, ranging from exporting durians, developing durian-related products, and promoting agritourism.

At ORESCO, we look at these as gifts from nature, treating them with great care and respect. We believe that what we take from nature, we must return. To preserve that delicate natural balance, we are committed to using only eco-friendly agricultural methods – ensuring that the durians we grow are tasty, healthy and sustainable.
Our Mission
To combine cutting-edge agricultural technology, deep management expertise with our natural resources to produce the highest quality durians.
Our Vision
Growers like you are the heart of ORESCO's vision. From planting to profit and having somewhere you can stay with friends and family to enjoy the fruits of your labour, we aim to create a fulfilling and rewarding journey for all our Durian Growers.
Our goal is to be the nexus of agriculture, technology and tourism. By identifying and implementing agile agriculture practices, innovative technologies and sustainable ecotourism as our key enablers, we drive forward and grow our plantations with these three strategic priorities to achieve our desired results.
We are a leading durian plantation management group, backed by decades of agricultural experience, award-winning credentials and cutting-edge technology. Focused on connecting people with Mother Nature through our plantations and ecotourism with a durian twist, our expertise is deployed on hundreds of acres of durian plantations across West Malaysia, producing premium quality durians for export across the globe.